AWS Training in Chennai
Greens Technology provides AWS training in Chennai to professionals and corporates with Certification and Placements. We offer real-world AWS Course in Chennai. For details call us at 89399-15577 or walk into our AWS Training Center in Adyar, OMR, Velachery, Tambaram, Anna Nagar.
We offer job assistance (subject to project availability and partner requirements) for positions in India, Singapore, Dubai and the UK.
100% MONEY BACK GUARANTEE
We promise you 100% Money Back Guarantee if you fail to clear the actual AWS Certification exam in your first attempt. We are confident that you will not get a chance to use this option.
About The Trainer
Karthik is a cloud architect and developer who works with Amazon Web Services and Google Cloud Platform.
He specializes in big data projects. Karthik has worked with AWS Athena, Aurora, Redshift, Kinesis, and the IoT. He has also done production work with Databricks for Apache Spark and Google Cloud Dataproc, Bigtable, BigQuery, and Cloud Spanner.
He is also a AWS Certified Solutions Architect – Professional and AWS Certified DevOps Engineer – Professional
Flexible Timings / Weekend classes Available.
Talk to the Trainer @ +91-89399 15577
If you're looking for a career in AWS, Working as an AWS Solutions Architect requires basic skills any developer should already have. You'll need to have a strong working knowledge of BASH scripting, and should be able to code (at least a bit) in Python, JavaScript, Java, or C++, especially if you intend to work in the world of Serverless architectures, where fluency in one of these four languages is a must.

The Career with the course: Three years hands-on experience with Amazon Web Services (working either independently or for a company) is about what you will need to get a job as an AWS Certified Solutions Architect. Experience in a lower-level job, like Cloud Strategist, Cloud Security Specialist, Software Engineer, or Cloud Systems Engineer will help prepare you for an AWS Solutions Architect role and show prospective employers that you have learned the technologies from the "ground-up."

FREE Demo Session: Try two FREE CLASS to see for yourself the quality of training.

Free Materials Povided during Demo sessions
Awarded as the Best AWS Training Center in Chennai - We Guarantee Your AWS Training Success in Chennai
Do you want to hone your skills, deepen your knowledge of AWS (SysOps , DevOps , Solutions Architect, Big Data) - Then you have come to the right place!
Prerequisite:
Preferably Good knowledge in Linux fundamentals
Preferably Good knowledge in Networking fundamentals
Preferably Good fundamental coding skills in any programming languages like PHP, Python, Shell Scripting or Java

AWS Certification Training - Prepare for Certification
Up-to-date content & hands-on labs for all AWS certifications: Start here to future-proof your skills
Learn from AWS experts. Advance your skills and knowledge. Build your future in the AWS Cloud and prepare for industry-recognized AWS Certification in Chennai. Take Amazon Web Services Training in Chennai at Greens Technologys and get an edge in your career.
Associate
AWS Certified Solutions Architect
AWS Certified Developer
AWS Certified SysOps Administrator
Professional
AWS Certified Solutions Architect
AWS Certified DevOps Engineer
Specialty
AWS Certified Advanced Networking
AWS Certified Big Data - Specialty
AWS Career Tracks: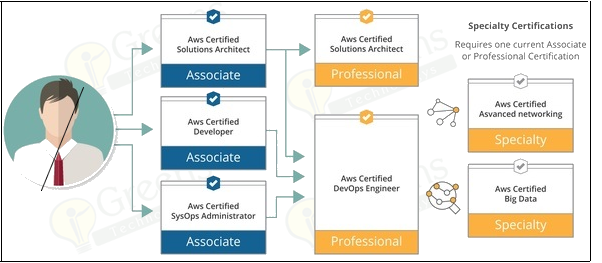 Cloud
Architect
Developer
Operations

Need Suggestion in Choosing the right AWS Cloud Track for your profile? Talk to our AWS Specialist for Guidance. AWS Training in Chennai at Greens Technologys will provide you the in-depth knowledge that is required for you to work in a real-time environment.
If you undergo the AWS Solutions Architect Training in Chennai at Greens Technologys, you will be able clear the AWS Certified Solutions Architect Certification and you can be a proud AWS Certified Solutions Architect in 60 days. If you undergo the AWS SysOps Training in Chennai at Greens Technologys, you will be able to clear the AWS SysOps Certification and you can be a proud AWS Certified SysOps Administrator in 60 days.
If you undergo the AWS DevOps Training in Chennai at Greens Technologys, you will be able to clear the AWS DevOps Certification and you can be a proud AWS Certified DevOps Administrator in 60 days.
AWS Training Curriculum Objectives
AWS training teaches students how to:
Identify the value and benefits of cloud computing and AWS
Understand methods and tools to maintain security and protect data
Explain the financial advantages of the AWS cloud
Navigate the AWS Management Console
Differentiate between AWS storage options
Understand AWS compute and networking options
Describe and use AWS database options
Identify deployment and management options
aws Training and Placement in Chennai.
Ranked BEST aws Training Center in Chennai.
BEST aws Training and Certification.
Top BEST Institute for aws in Chennai.
aws Training center Chennai
aws Training realtime course with frnds
aws online training best institute
aws course greens technologys
best aws Training in Chennai
aws Training tutorial
Make decisions based on recommended architectural principles and best practices
Create a cloud migration roadmap and plan
Use AWS to make infrastructure scalable
Create a business continuity plan and achieve high availability
Create event-driven scaling
Automate the deployment of cloud resources
Design architectures to decouple infrastructure and reduce interdependencies
Optimize data storage for static content
No.1 aws Training in Adyar.
Best aws Training Chennai, OMR.
Reviews across the Internet proves – we are the BEST aws Training.
Our Training Institute also ranked the BEST aws Training in India.
aws Training Chennai Adyar
Identify best practices prescribed in the Well-Architected framework
Identify and solve common configuration and design issues
Differentiate between architectures for data processing and analytics, mobile back-ends, and video transcoding
Make architectural decisions based on the AWS-recommended architectural principles and best practices.
Top ranked Best AWS Training Institute with Practical real time syllabus.
Leverage AWS services to make your infrastructure scalable, reliable, and highly available.
Leverage AWS managed services to enable greater flexibility and resiliency in an infrastructure.
Make an AWS-based infrastructure more efficient in order to increase performance and reduce costs.
Use the Well-Architected Framework to improve architectures with AWS solutions.
Understand the AWS Certified Solutions Architect – Associate and Professional exam structure and questions
AWS Course Content at Greens Technologys
Below is the High-Level Amazon Web Services course syllabus that can be altered to meet your needs. Please walk into Greens Technologys Adyar or T Nagar or Velachery or OMR office for a detailed AWS Syllabus.
AWS Technical Essentials
This course covers the following concepts:
Introduction and History of AWS
AWS Foundational Services: EC2, VPC, S3, EBS
AWS Security, Identity, and Access Management: IAM
AWS Databases: RDS, DynamoDB
AWS Management Tools: Auto Scaling, CloudWatch, Elastic Load Balancing, Trusted Advisor
Architecting on AWS
Day 1
Core AWS Knowledge
Core AWS Services

Designing Your Environment
Making Your Environment Highly Available
Day 2
Forklifting an Existing Application onto AWS
Event-Driven Scaling
Automating

Decoupling

Build a new environment
Day 3
The Well-Architected Framework
Troubleshooting Your Environment
Large-Scale Design Patterns and Case Studies
Developing on AWS
Day 1: Building the Foundation
Introduction to Developing on AWS
Choosing a Data Store
Developing Storage Solutions with Amazon S3
Developing Flexible NoSQL Solutions with Amazon DynamoDB
Day 2: Connecting Applications and Data with Event-Driven Processing
Working with Events
Developing Event-Driven Solutions with Amazon Kinesis Stream
Developing Event-Driven Solutions with Amazon SWF, Amazon SQS, and Amazon SNS
Developing Event-Driven Solutions with AWS Lambda
Day 3: Developing and Deploying Secure, Scalable Applications
Developing Secure Applications
Caching Information for Scalability
Monitoring Your Application and AWS Resources with Amazon CloudWatch
Deploying Applications with AWS Elastic Beanstalk and AWS CloudFormation
Systems Operations on AWS
Day 1
Systems Operations on AWS Overview

Networking in the Cloud

Computing in the Cloud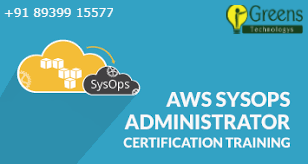 Day 2
Storage and Archiving in the Cloud
Monitoring in the Cloud
Managing Resource Consumption in the Cloud
Day 3
Configuration Management in the Cloud
Creating Scalable Deployments in the Cloud
Creating Automated and Repeatable Deployments

Advanced Architecting on AWS
Day 1
Review of Architecting for the Cloud Best Practices and the AWS Well-Architected Framework

AWS Account Strategies
Advanced Networking Architectures
Deployment Management on AWS

Day 2
Designing Large Datastores
Moving Large Datastores into AWS
Big Data Architectures
Designing for Large Scale Applications
Day 3
Building Resilience into Your Architecture
Data Encryption and Key Management in AWS
Securing Data on AWS
Designing for Performance
DevOps Engineering on AWS
Day 1

Introduction to DevOps
AWS Command Line Interface
Introduction to DevSecOps
Deployment Strategies and Developer Tools

Day 2
Infrastructure as Code
Deep Dive into AWS Developer Tools
Automated Testing on AWS

Day 3
Configuration Management
AMI Building and Amazon EC2 Systems Manager
Containers: Docker and Amazon ECS
DevOps Customer Case Studies
Course Wrap-Up
AWS Course Duration and Timing
At Greens Technologys, we offer weekday and weekend classes for your convenience
We also offer fast track classes to meet your busy schedule
AWS Certification in Chennai
AWS Training in Chennai at Greens Technologys will be of great help to anyone who is looking to get into the AWS Cloud world. Whether you are looking to take up AWS Solutions Architect Certification or AWS SysOps Certification or AWS DevOps certification, our training modules will help you to get excellent score in the exam which is valid for a period of 2 years.
Greens Technologys is rated as a leading amazon web services training institute in Chennai by experienced cloud professionals. We offer practical, real-time and placement oriented training to all our students to excel in cloud computing domain. Our customized course syllabus will assist students to learn at their own pace. As a leading Cloud Computing Training institute in Chennai, we are dedicated to providing quality education to all our students.
Rated as No 1 training institute for Best Amazon Web Services Training in Chennai
Interested in our Amazon Web Services Training in Chennai, call 89399-15577 to talk to our career counselors and start your journey as an Amazon Cloud specialist!
call us to know about : aws course fees details in chennai, aws authorized training partner in chennai, aws certification exam centers in chennai, aws course in chennai what is the qualification, aws training in chennai velachery, aws course syllabus, aws exam centers in chennai
Our Corporate training programs feature:
AWS Training Institute gives you customized training programs with flexible training schedules. Students can choose their time of convenience. We have our group size for training the students with limited number of seats. We also provide you with the course materials which has been designed by our certified faculty members.Students can enroll themselves in the best AWS Training Institute in Chennai for the best AWS Classes. We provide you with joining offers for your successful future.
AWS Placement Training in Chennai:
More than 10000+ students are been trained in AWS Placement Training in Chennai and we have a record of 90% placements.
---
AWS training in Chennai Reviews
Greens Technology Reviews given by our students already completed the training with us. Please give your feedback as well if you are a student.
AWS training in Chennai Reviews from our Students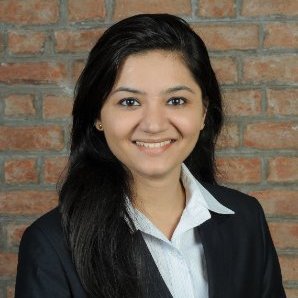 I am glad to have taken complete AWS course in Greens Technologys. It helped me a lot in understanding various concepts before which I was depending on many other sources. I will recommend this course to beginners as well as experienced developers/ admins to attend the courses offered by Karthik @ Greens Technologies Adyar. The course curriculum is meticulously prepared and also followed without any compromise. Thus, the beginners can understand how to begin learning a vast technology without any confusion.
Best AWS Certification Training Syllabus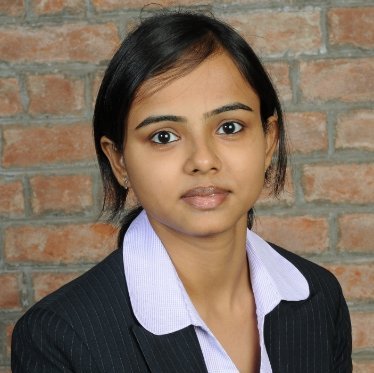 Dear Karthik! This message is to say BIG THANK YOU..for all teaching you done in our AWS training sessions. I GOT JOB as AWS Architect after almost 6 months of struggle here in Chennai. I must Thank you for such a good and rocking lessons. And i am proud to be one of your student. The way you handle things and explanation of subject is unique. And I am looking forward to learn more subject from you. Thank you.
Best AWS Training center in Chennai

"Karthik! I am really delighted about the AWS course and i am surprised to see the depth of your knowledge in all aspects of the Cloud technology. I see that many Architects with over 15+ yrs experience doesn't have the knowledge that you have. I really enjoyed your sessions, definitely look forward to learn more from you in the future. Thanks again."
Best AWS Training and Placement In Chennai

"Friends I am from Manual testing background having 6+ years experienced. I planned to Move into Amazon Web Services(AWS). I Came to know about Greens technologies and Sai who is working in CTS . They Really helped me to clear the interview. Thanks to Sai Sir. Knowledgeable Presenters, Professional Materials, Excellent Support" what else can a person ask for when acquiring a new skill or knowledge to enhance their career. Greens Technology true to its name is the place to gather,garner and garden the knowledge for all around the globe. My Best wishes to Greens Technology team for their upcoming bright future in E-Learning sector.
---
Best AWS Training in Chennai
Are you located in any of these areas - Adyar, OMR, Mylapore, Chromepet, Medavakkam, Porur, Saidapet, K.K.Nagar, Kilpauk, Kodambakkam, Madipakkam, Villivakkam, Sholinganallur, St. Thomas Mount, T. Nagar, Tambaram, Teynampet, Thiruvanmiyur, Thoraipakkam,Vadapalani, Velachery, Nandanam, Nanganallur, Nungambakkam, Pallikaranai, Perungudi, Ambattur, Aminjikarai, Adambakkam, Anna Nagar, Anna Salai, Ashok Nagar, Besant Nagar, Choolaimedu, , Egmore, Ekkattuthangal, Guindy, Virugambakkam and West Mambalam.
Our Adyar office is just few kilometre away from your location. If you need the best AWS training in Chennai, driving couple of extra kilometres is worth it!