Data Science Training in Chennai
Greens Technology provides Data Science training in Chennai to freshers and Working professionals with certification. Awarded as the Best Data Science Training Center in Chennai - Learn SAS, R, Python, Machine leaning and algorithms with real-world experience.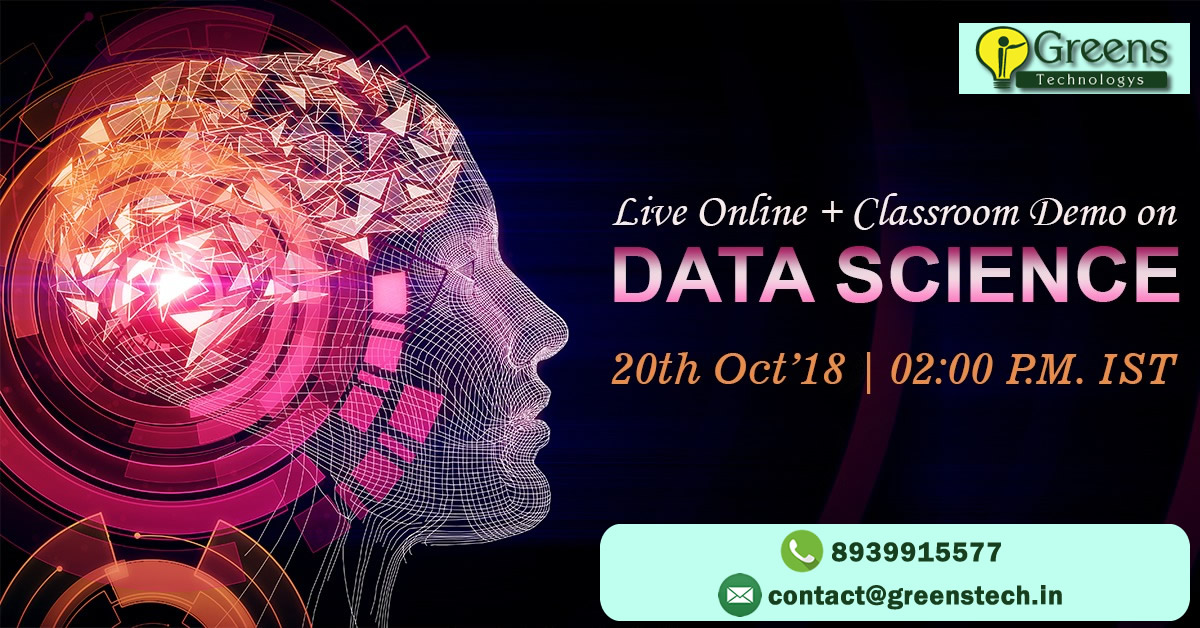 Greens Technology Features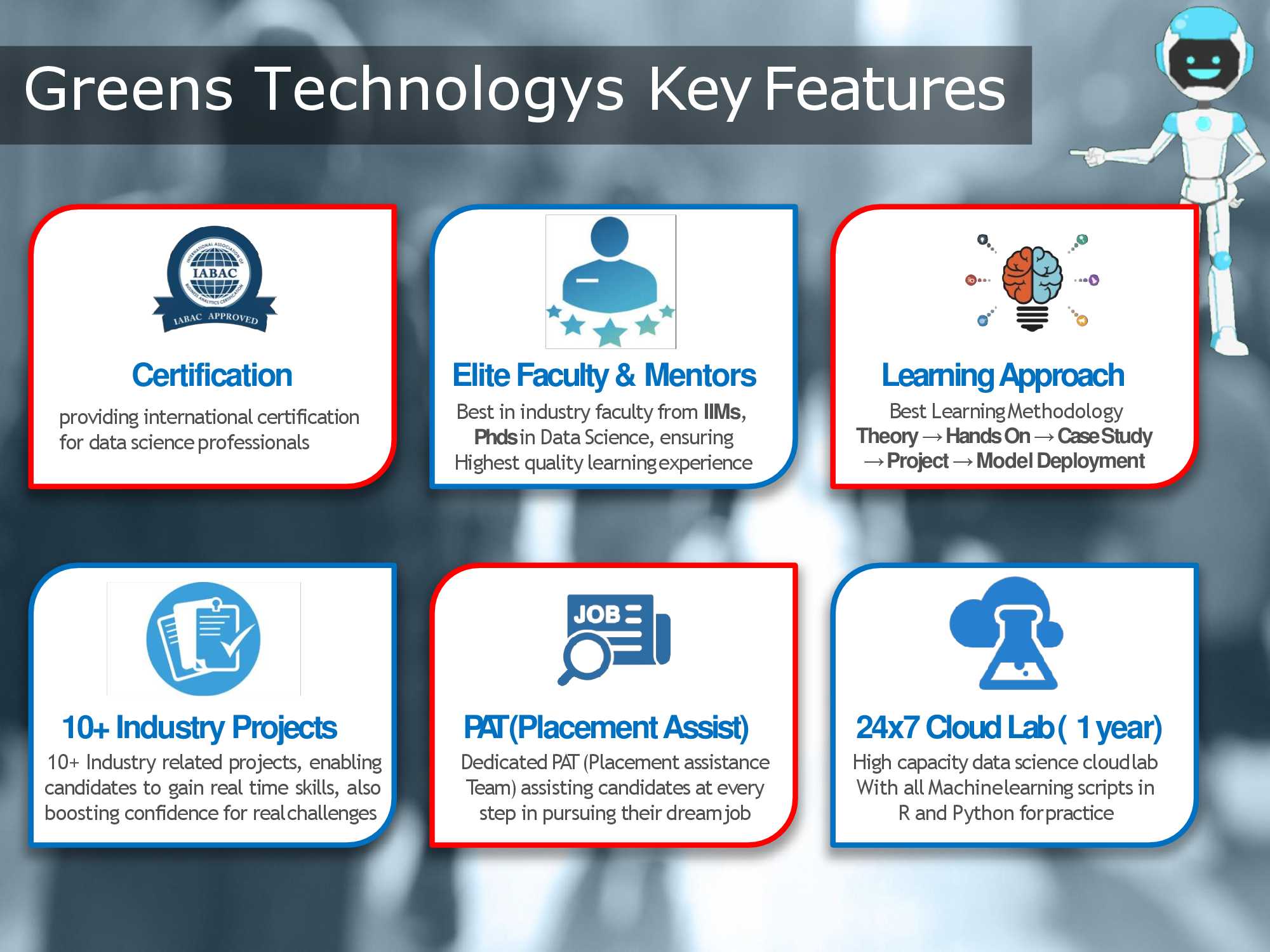 Data Science Course in Chennai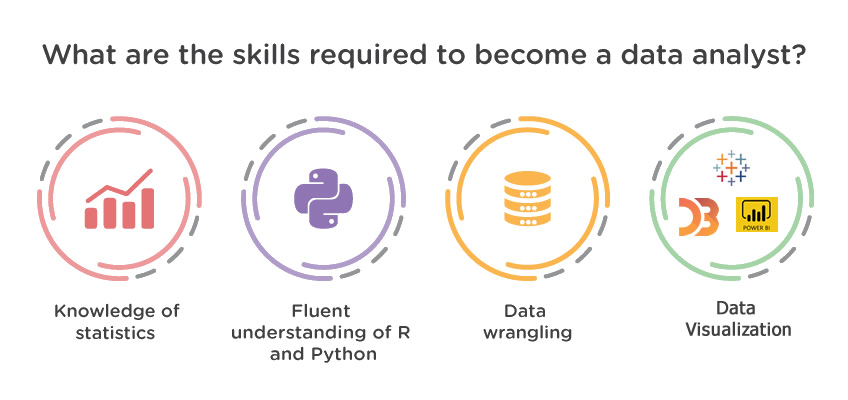 With personal hands-on data science training in Chennai, and optional follow-up mentoring, you can guarantee that your data science training in Chennai investment provides the maximum benefit with Jobs and Certifications. Contact 89399-15577 for data science Training in Chennai with working data science Certified professionals. Best data science training institutes in chennai with placement advanced syllabus. data science training chennai offers classroom, online training courses and certifications.
Why to learn Data Science?
The Internet has an Incredible easy way to gather any kind of information. Even you can get an idea about how to design your own flight Yes, we can get whatever we want. But the subject is how we are going to use these data efficiently?
Data analytics is the heartbeat of all top organizations
Data Science is everywhere
You become Decision-Making person
Data Science is rapidly increasing than expected
Offering new revenue strategies
Know here the Skills You Should have to be a Data Scientist.
About The Trainer
Mr.Vishnu work as an Data Scientist & Instructor, He has over 15 years of analytics experience working with companies like Capital One, Walmart, ICICI Lombard etc and recognized expert in analytics using R & Python.
Qualification: M.S. in Statistics
Membership American Statistical Association
Flexible Timings / Weekend classes Available.
Talk to the Trainer @ +91-89399 15577

FREE Demo Session: Try two FREE CLASS to see for yourself the quality of training.

Free Materials Povided during Demo sessions
The world has been taken over by big data. And with the foothold of big data growth in the world, the need for its storage began to grow. Enterprise industries saw it as a challenge till somewhere around 2010. At that time, more emphasis was being laid on building solutions and frameworks for the storage of data. Then came frameworks like Hadoop that indeed solved the problem of data storage.


Datascience Program Structure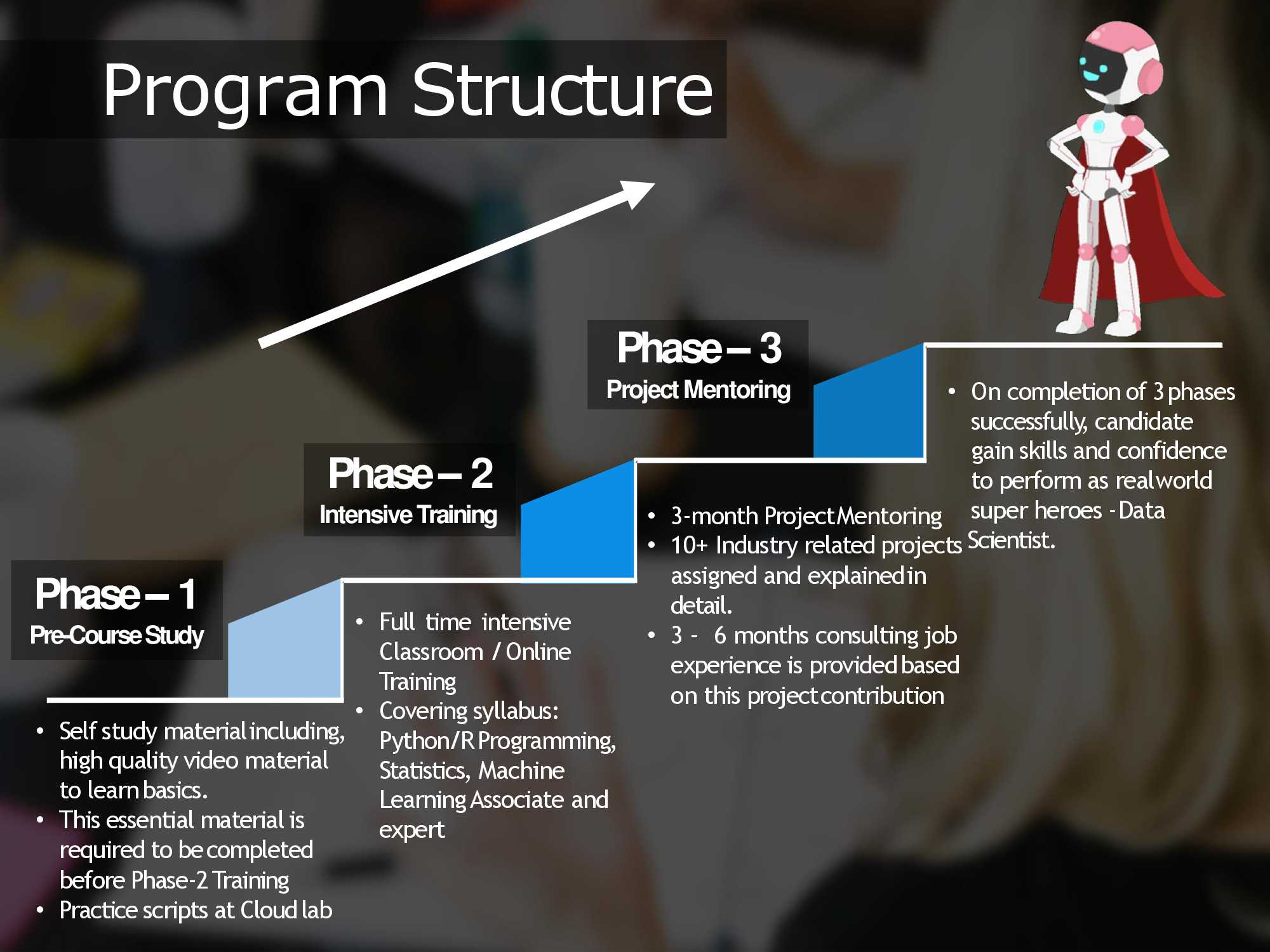 Offering Data Science Training in Chennai on both weekdays, weekend and also Online training.

Over the years, data science has become an essential part of every business. It solves many problems within a given field through data analysis and interpretation of various data.
There are few online resources stating that the candidate needs to be skilled in database query languages, software development, mathematics, programming visualization station, statics the etc as a basic requirement to become a data scientist. This might discourage the beginners, who enter dreaming of becoming a Data Scientist.
Data Science Training Course Syllabus in Chennai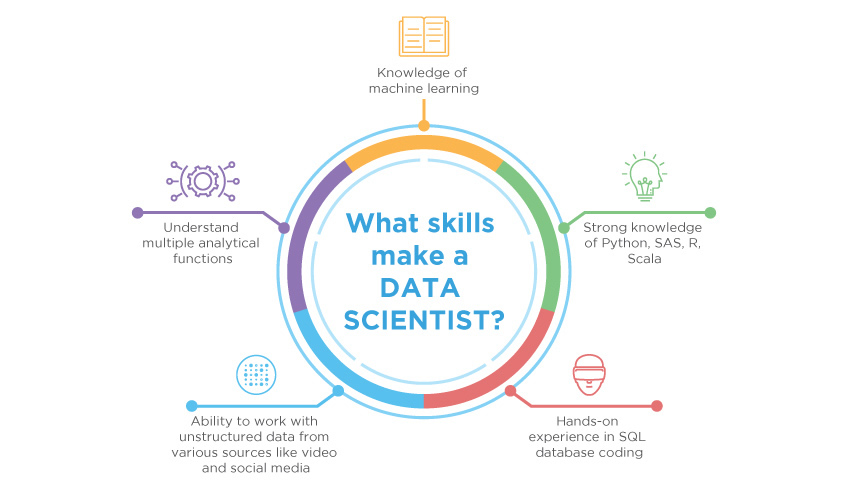 Do you want to hone your skills, deepen your knowledge of R (programming language) Programming - Then you have come to the right place!
About the Data Science Course
Deep learning with Python
Deep Learning is a new area of Machine Learning research, which has been introduced with the objective of moving Machine Learning closer to one of its original goals: Artificial Intelligence. Deep learning is an aspect of artificial intelligence (AI) that is concerned with emulating the learning approach that human beings use to gain certain types of knowledge. At its simplest, deep learning can be thought of to automate predictive analytics. While traditional machine learning algorithms are linear, deep learning algorithms are stacked in a hierarchy of increasing complexity and abstraction.
How exactly Deep Learning helps us to classify?
Essentially Deep Learning involves feeding a computer system a lot of data, which it can use to make decisions about other data. This data is fed through neural networks, as is the case in machine learning. These networks – logical constructions which ask a series of binary true/false questions, or extract a numerical value, of every bit of data which pass through them, and classify it according to the answers received.
Some of real-world use case for Deep Learning.
Object Classification in Photographs.
Recoloring black and white images
Predicting the outcome of legal proceedings
Automated analysis and reporting
We offer Deep Learning course along with Python.
Syllabus
Deep Learning with PyTorch, Tensorflow and Keras
Introduction to Neural Networks
Implementing Gradient Descent
Training Neural Networks
Sentiment Analysis
Deep Learning with PyTorch
Convolutional Neural Network (CNN)
CNNs in PyTorch
Recurrent Neural Networks
Long Short-Term Memory Network (LSTM)
Sentiment Prediction RNN.
Data Science course in Chennai using R
Every case study gives you a chance to work on large, real-life business data sets in the advanced R lab.
Programming with R
Advanced R Features
Using R Data Frames to solve complex tasks
Use R to handle Excel Files
Web scraping with R
Connect R to SQL
Use ggplot2 for data visualizations
Use plotly for interactive visualizations
Machine Learning with R, including:
Linear Regression
K Nearest Neighbors
K Means Clustering
Decision Trees
Random Forests
Data Mining Twitter
Neural Nets and Deep Learning
Support Vectore Machines
and much, much more!
Enroll in the course and become a data scientist today!
Datascience Track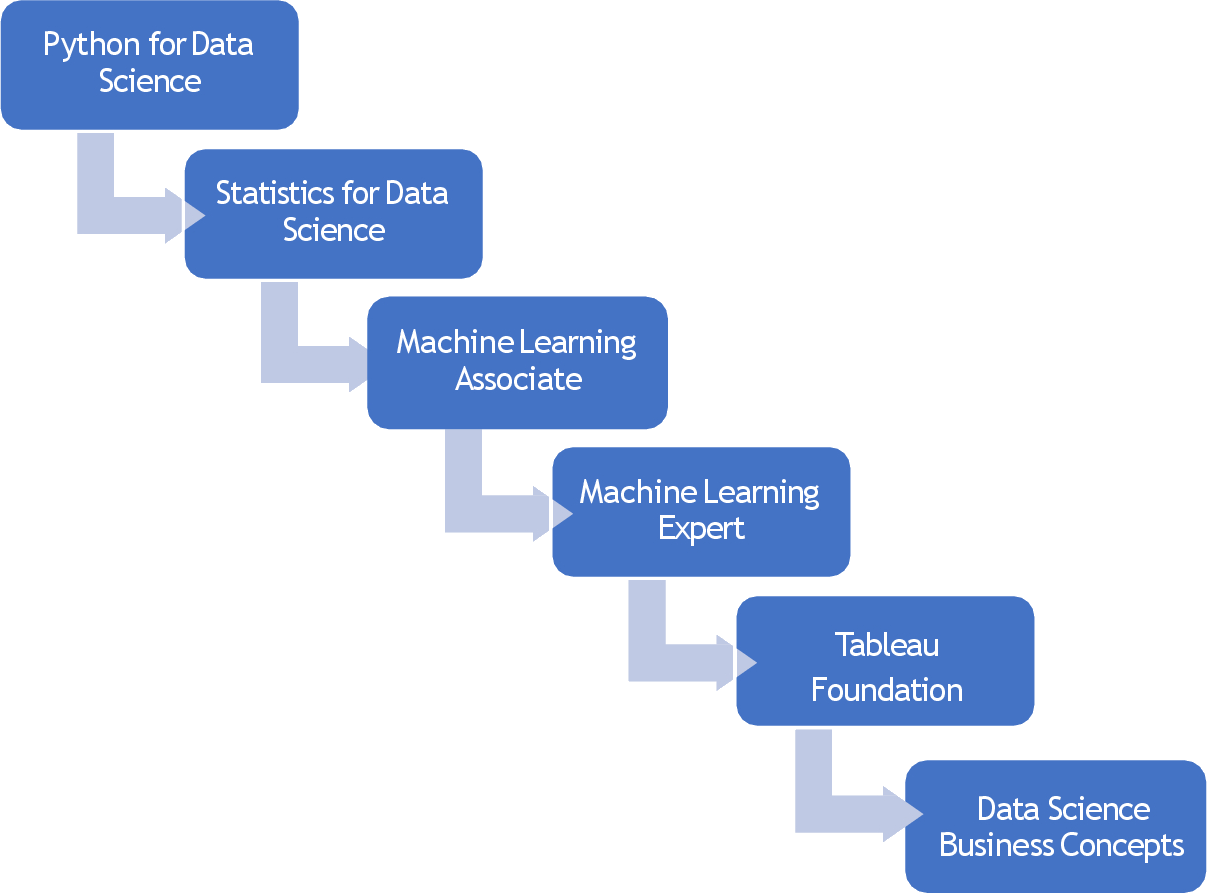 SAS Trainers in our SAS Training institute are Globally Experienced, Certified


Data Science training in Chennai with SAS
World-class Certified SAS Training Institute in Chennai for Base SAS, Advanced SAS, Clinical SAS, Analytics, Business Intelligence, Data Management, and Predictive Analytics
Base SAS
Advance SAS
Predictive Modeling
Clinical Data Manager
Platform Administrator
SAS Visual Analytics
SAS Data Integration Studio
BA Data Mining with Statistics
Business Intelligence
Data Management and Reporting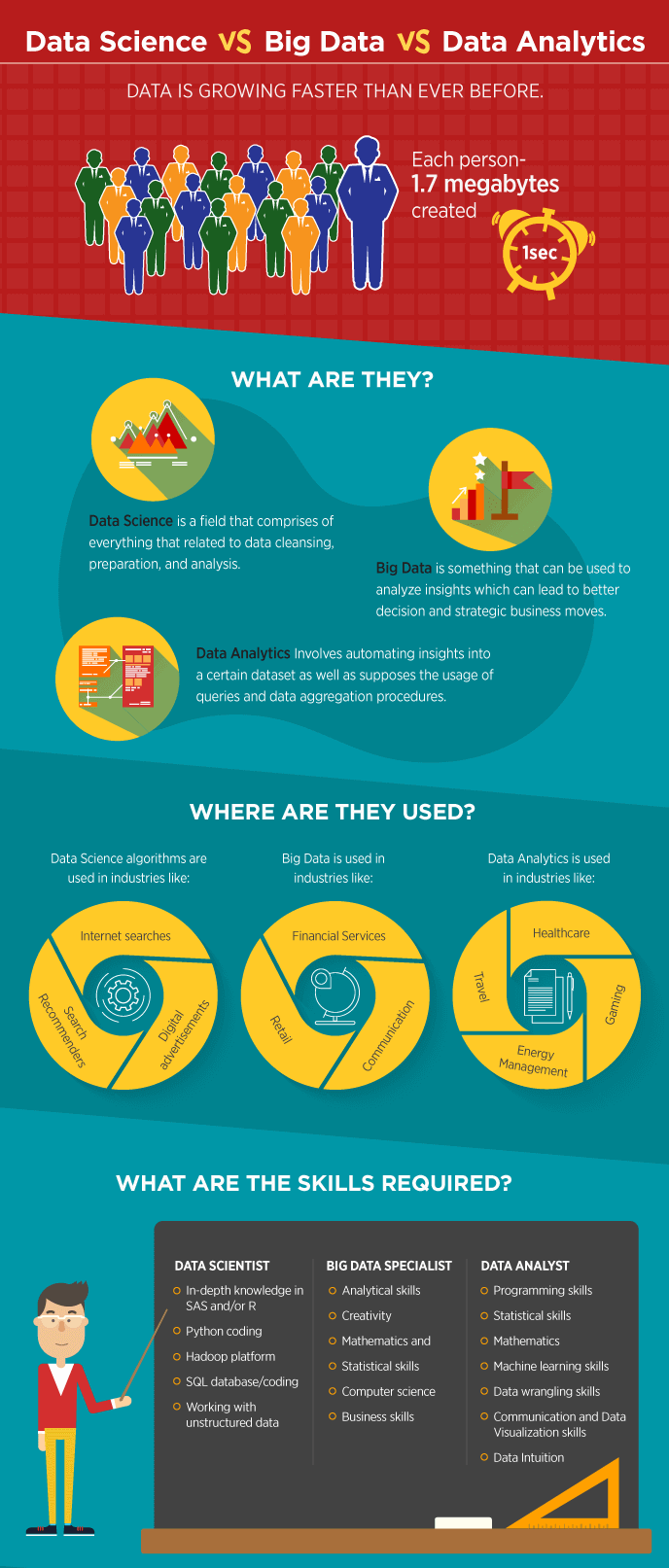 Data Science training course in Chennai with Python
Learn to use Python as your Data Science tool of choice This course teaches you Python as a tool for data science, and specifically for implementing an advanced Machine Learning algorithm with Python
I. Introduction and Setting Up Your Integrated Analysis Environment
Setting Up Your Integrated Analysis Environment & Tools Overview
IPython Shell
Custom environment settings
Jupyter Notebooks
Script editor
Packages: NumPy, SciPy, scikit-learn, Pandas, Matplotlib, Seaborn, etc.
Once you complete this module, you will understand some of the unique benefits of using Python for data science / what features make Python particularly well-suited for data science, you will be able to set up a fully functioning Python-based analysis environment, and you will know what each tool is used for in the data science workflow.
II. Using Python to Control and Document Your Data Science Processes
Python Essentials
Data types and objects
Loading packages, namespaces
Reading and writing data
Simple plotting
Control flow
Debugging
Code profiling
Once you complete this module, you will be able to use the Python standard library plus Canopy tools to write, run, debug, and profile programs that control your data science processes (which draw on the scientific packages).
III. Accessing and Preparing Data
Data, Data, Everywhere...
Acquiring Data with Python
Loading from CSV files
Accessing SQL databases
Cleansing Data with Python
Stripping out extraneous information
Normalizing data
Formatting data
Once you complete this module, you will know how to load data from common types of data sources, including structured text files and SQL databases. and you will know some of the common tools used in Python to cleanse and prepare your data for analysis.
IV. Numerical Analysis, Data Exploration, and Data Visualization with NumPy Arrays,
Matplotlib, and Seaborn
NumPy Essentials
The NumPy array
N-dimensional array operations and manipulations
Memory mapped files
Data Visualization
2D plotting with Matplotlib
Advanced data visualization with Seaborn
Once you complete this module, you will understand how to use NumPy arrays for efficient numerical processing and how to use NumPy methods such as slicing to write code that is both compact and easy to read and understand. You will know how to use Matplotlib, Seaborn, and NumPy together to explore and visualize your data.
V. Exploring Data with Pandas
Searching for Gold in a Pile of Pyrite
Data manipulation with Pandas
Statistical analysis with Pandas
Time series analysis with Pandas
At the end of this module, you will know how to access some of the core tools used for statistical analysis and data exploration in Python.
VI. Machine Learning with scikit-learn
Predicting the Future Can Be Good for Business
Input: 2D, samples, and features
Estimator, predictor, transformer interfaces
Pre-processing data
Regression
Classification
Model selection
At the end of this module you will have a working understanding of what machine learning tools are available in scikit-learn and how to use them.
Machine Learning for Data Science and Analytics
Learn the principles of machine learning and the importance of algorithms.
Machine learning is the science of getting computers to act without being explicitly programmed. In the past decade, machine learning has given us self-driving cars, practical speech recognition, effective web search, and a vastly improved understanding of the human genome. Machine learning is so pervasive today that you probably use it dozens of times a day without knowing it. Many researchers also think it is the best way to make progress towards human-level AI. In this class, you will learn about the most effective machine learning techniques, and gain practice implementing them and getting them to work for yourself. More importantly, you'll learn about not only the theoretical underpinnings of learning, but also gain the practical know-how needed to quickly and powerfully apply these techniques to new problems. Finally, you'll learn about some of Silicon Valley's best practices in innovation as it pertains to machine learning and AI.
---
Data Science training in Chennai with Advanced SAS: Macros & SQL
Study advanced techniques in SAS - the most popular analytics language

Data Scientists, grab the opportunity to learn advanced data manipulation using SQL and Macros. Leap ahead in SAS by mastering the use of SQL as a data manipulation tool, the components of the SAS macro facility, the designing and debugging of macro systems, and more.
Oracle SQL Training Course Contents :
Introduction
Describe the features of Oracle Database 12c
Describe the salient features of Oracle Cloud 12c
Explain the theoretical and physical aspects of a relational database
Describe Oracle servers implementation of RDBMS and object relational database management system (ORDBMS)
1. Basic DATABASE Concept and SQL
Basic history of database concept: DBMS, RDBMS, ORDBMS
Advantage of ORACLE database and version information
Interface tools usage: sqlplus, isqlplus, sqldeveloper, Toad
SQL Language overview : DQL, DML, DDL, DCL, TCL
What is the usage of ANSI standard.
SELECT Command - Column Alias Rules, String data,
Concatenations with various data
Null Value handling with number and characters,
Arithmetic Operator
Concatenation Operator,
Eliminating Duplicate Rows
2. Restricting and Sorting Data
WHERE Clause - Character Strings and Dates, number
General Comparison Conditions = > >= < <= <>
Other Comparison BETWEEN , IN , LIKE , NULL
Logical Conditions AND OR NOT
ORDER BY Clause, Sorting by Column Alias , Column Position, Multiple Columns
3. Single-Row Functions
Character Functions: UPPER, LOWER, INITCAP, LENGTH, SUBSTR, INSTR, LPAD, RPAD, CONCAT, LTRIM, RTRIM, TRIM, REPLACE, TRANSLATE, REVERSE
Number Functions: ROUND, TRUNC, MOD, POWER, CEIL , FLOOR, ABS
Dates Functions: SYSDATE, MONTHS_BETWEEN, NEXT_DAY, LAST_DAY, ADD_MONTHS, ROUND, TRUNC, Arithmetic on Date
Conversion Functions: Implicit Data-Type Conversion & Explicit Data-Type Conversion, TO_CHAR ,TO_NUMBER ,TO_DATE
General Functions: NVL , NVL2 , NULLIF, COALESCE
CASE Expression, DECODE
Nested function with real-time usage
4. JOINS
EQUI JOIN / SIMPLE JOIN / NORMAL JOIN
ANSI JOIN, LEFT OUTER, RIGHT OUTER, FULL OUTER
NATURAL JOIN, NATURAL OUTER JOINS
INNER JOIN, JOIN ... USING clause, JOIN ... ON clause,
CROSS JOIN, NON-EQUI JOIN, SELF JOIN
ORACLE STANDARD OUTER JOINS.
Multi table Joins, Complex Joins How to simplified complex joins.
5. Multi-row Functions
Group Functions Rules, SUM, MIN, MAX, COUNT, AVG
Creating Groups of Data: GROUP BY Clause
Filtering Group Results: The HAVING Clause
6. Sub-queries
Single-Row Subqueries- Rules, Operators : = > >= < <= <>
Null Values in a Subquery
Multi-Row Subqueries- Rules, Operators : IN, ANY , ALL
7. Reporting data using interface commands
pagesize, linesize , column heading , column format , colsep
tTitle , bTitle , break on column, spool , CSV file generation, Text file generation
8. Data Manipulation Language DML and Transaction Control Language TCL
DML : INSERT, UPDATE, DELETE, MERGE
TCL : COMMIT, ROLLBACK, SAVEPOINT
9. Data Definition Language - DDL
DDL : CREATE, ALTER, RENAME, DROP, TRUNCATE
DEFAULT OPTION.
Constrain table copy
10. Constraints
NOT NULL, UNIQUE, PRIMARY KEY, FOREIGN KEY, CHECK
Column Level Constraint, Table Level Constraint Naming constraints and usage
Adding a Constraint, Dropping a Constraint,
Disabling Constraints, Enabling Constraints
Validating Constraints
11. Views
Simple Views and Complex Views , Create, Drop, Source Code
Rules for Performing DML Operations on a View
WITH CHECK OPTION , WITH READ ONLY
Inline Views
Materialized View , Create, Refresh, Drop - Usage
12. Other Database Objects
Sequence- NEXTVAL and CURRVAL
Index - When to Create an Index, When Not to Create an Index.
Synonyms
13. DCL COMMANDS
Creating Users
Granting / Revoking Privileges
Creating and Granting Privileges to a Role
14. Dictionary Tables
Tables, Views, Synonyms, Index, Sequence, Constrains, Source and other Dictionary
15. SET Operators
UNION ,
UNION ALL ,
INTERSECT ,
MINUS
16. Advanced Date-time Functions
TIME ZONES ,
SYSDATE, SYSTIMESTAMP,
CURRENT_DATE , CURRENT_TIMESTAMP
SESSIONTIMEZONE ,
Storing time zone data in Table
EXTRACT ,
TO_YMINTERVAL
17. Advanced GROUP BY Clause
Group by with ROLLUP,
Group by with CUBE,
GROUPING SETS
18. Advanced Subqueries
Pairwise Comparison Subquery ,
Nonpairwise Comparison Subquery
Correlated Subqueries,
Correlated UPDATE,
Correlated DELETE
EXISTS , NOT EXISTS Operator
19. Hierarchical Retrieval
Walking the Tree: From the Bottom Up , From the Top Down
LEVEL Pseudo column,
Connect by prior,
20. Multi-table Insert
Unconditional INSERT ALL
Conditional INSERT ALL
Conditional FIRST INSERT
21. DATA LOADER
SQLLDR Loading CSV file / Flat file into ORACLE table.
22. Analytic Functions
WM_CONCAT, LAG, LEAD, RANK, DENSE_RANK
Query_by partition_clause with sum, min, max, avg, count,
order_by_clause with sum, min, max, avg, count,
Psudo column : Rownum, Rowid, - Elimination duplicate data
Connect by rownum , Connect by Level Generating random numbers, random dates,
Quote Operator syntax and usage
23. Backup
24. General discussion
What is migration?
Migration Estimating, Planning, Preparation Simple Scenario / Complex Scenario.
Data Science training in Chennai with Excel Macro
Creating Record Macros
Recording a Macro
Running a Macro
Running a Macro from the Macros Dialog Box
Creating a Short-cut key to run a macro
Running a Macro with a Shortcut key
Assigning a Macro to a Menu or Toolbar
Editing a Macro with Visual Basic
Visual Basic Editor
Objects
Methods
Properties
Programming Tools
The Menu Bar
The Project Explorer
Using the Project Explorer
Using Constants
Excel Constants
Variable Constants
Excel Objects
Objects, Properties and Methods
Getting & Setting Properties
Calling Methods
Passing Arguments
Singular Objects & Collections of Objects
Using Visual Basic Functions
InputBox Function
MsgBox Function
Using a Set Statement
Building Formular Control Structures
If Then Janision Structures
Logical Operators
Select Case Janision Structures
Case Else
Comparison Operators with Select Case Structure
For Loops
Do Loops
While...Wend Statement
Running Code
Run mode and Design mode
Running Code from the development environment
Running Code from the host application
The Properties Window
Changing a Property
Variables
Dimensioning a variable
Using variables in routines
Object Variables
UserForms
Designing & Creating Forms
Working with Controls
Creating Custom Dialog Boxes
Userform Properties Methods & Events
Advanced VBA Programming Techniques
Developing Excel Utilities with VBA
Error Handling
Using In-Built Excel Features in VBA
Working with Pivot Tables
Working with Charts
Understanding Excel's Events
Interacting with Other Applications
Creating and Using Add-Ins
Developing Applications
Working with the Ribbon
Working with Shortcut Menus
Providing Help for Your Applications
Developing User Oriented Applications
Event Handling
VBA Editing & Debugging
Auto Macros
Error Handling
Connecting to Database
Connect to MS Access
Access Database & Retrieve Data from MS Access
Create Table & Query Data Filter DB using Query
Update and Modify DB
Create Single and Multiple Mapping Tables
Filter DB using Query
Query data grouping
Retrieve Data using Logical Access Query
Connect Excel to Outlook
Connect to Outlook using VBA
Query to retrieve Mail From, to and CC address
Retrieve Mail Subject and Time
Retrieve Mail Attachment
Top Factors which makes us the Best Data Science Training Institute in Chennai
Offering Data Science Training in Chennai on both weekdays, weekend and also Online training.
Flexible session timings and comfort environment, So that you can choose us to learn Best Data Science Training in Chennai.
Learn Data Science from More than 10+ years working professional, as a result, you become a Data Scientist.
During our Data Science course, you will analysis real time live data and submit your report.
Additionally the BEST Software Training Institute for Best Data Science Course.
Professional Data Science Training in Chennai from the Data Scientists same as you become a Data Scientist.
Best Data Science Training in Chennai with Real Time ground data rather than theory Oriented.
Ranked as BEST Data Science Training Institute in Chennai Velachery based on all positive reviews across the Internet.
Greens Technologys is the Best Data Science Training center in Chennai.
Furthermore Our Data Science Course syllabus is standard and unique with "R" Programming.
Offering Data Science Course in Chennai with real-time data. Finally, you reached Best Data Science Training Institute in Chennai.
Data Science Placement Training in Chennai:
More than 10000+ students are been trained in Data Science Placement Training in Chennai and we have a record of 100% placements.
---
Data Science training in Chennai Reviews
Greens Technology Reviews given by our students already completed the training with us. Please give your feedback as well if you are a student.
Best Data Science Training in Chennai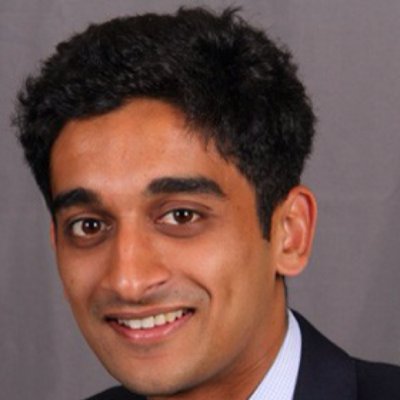 " I am glad to have taken complete Data Science course in Greens Technologys. It helped me a lot in understanding various concepts before which I was depending on many other sources. I will recommend this course to beginners as well as experienced Data Science Developers to attend the courses offered by Radha Krishnan @ Greens Technologies Adyar. The course curriculum is meticulously prepared and also followed without any compromise. Thus, the beginners can understand how to begin learning a vast technology without any confusion. In my case, attending this course, helped me firstly how to learn the subject in a different approach (understandings basics level to in depth concepts), instead of rushing through various text books or online sources. Dinesh explains every concept in a very interesting way and it always creates an excitement in learning more about Java. Moreover the material, notes from training also helps us prepare for interviews, Data Science real time projects as well.
Best Data Science Training institute in Chennai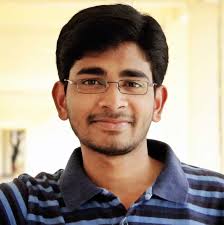 "I did my Android and Data Science training in greens technology, Chennai. Now I got placed in Virtusa. I really thank Muthu for his involvement in my training. His way of teaching is really awesome. I never saw such quality teaching and placements were so fast. Thanks a lot Greens Technologys for your support. I wish Muthu sir all the best for his new IT development venture
Best Data Science Training & Placement in Chennai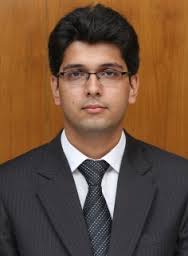 "Thank you for the immediate placement after the completion of Data Science course from Greens Technology. The trainer Muthu sir (12 yrs exp) here are Real time working expert and have excellent knowledge on their subject .They guided me to get thru the interview process. Best thing is that they stay in touch with the students even after the placement and help us growing.I am very happy to write testimonial for Greens Technology. Dinesh sir is like my big brother"
Data Science Training & Placement Institute in Chennai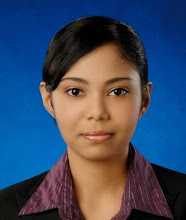 "My greetings to Data Science God Karthik of Greens temple.As a Data Science Pilgrim i have gained power of Data Science.I know what iam before entering to this holy place and now i know i have acquired magic power of Data Science. With your blessings iam going to enter in to programming world.I wish there was some way of showing my gratitude for all what you have done for me....Loving You...... UrsForever"
Data Science certifications Training in Chennai
Analytics: Optimizing Big Data Certificate
Certificate in Engineering Excellence Big Data Analytics and Optimization (CPEE)
Certification of Professional Achievement in Data Sciences
Certified Analytics Professional
EMC Proven Professional Data Scientist Associate (EMCDSA)
IBM Certified Data Architect – Big Data
IBM Certified Data Engineer – Big Data
Microsoft Certified Solutions Expert (MCSE): Data Management and Analytics
Mining Massive Data Sets Graduate Certificate
MongoDB Certified DBA Associate
MongoDB Certified Developer Associate
Oracle Business Intelligence Foundation Suite 11 Certified Implementation Specialist
SAS Certified Big Data Professional
SAS Certified Data Scientist Using SAS 9
Cloudera Certified Associate (CCA) Administrator
Cloudera Certified Associate (CCA) Data Analyst
Cloudera Certified Associate (CCA) Spark and Hadoop Developer
Cloudera Certified Professional (CCP): Data Engineer
Stanford Data Mining and Applications Graduate Certificate
Data Science Training in Chennai Benefits
My batch sizes are generally very small size 5-7 members OR 1 to 1 also, so students receive direct, hands-on training from us.
100% practical training only. It is not a slide show training program / theory class program. At the end of this class, definitely you will refer your colleagues / friends / relatives for my training.
Conducting regularly online- training for US peoples in all time zones (PST,CST,EST,HST,MST)
Installation of Softwares in your desktop / laptop will be done.
Will be provided self evaluation testing software, exam simulator, dumps & books with this training.
Continuous support is provided for any of your on-site problems. assistance will be provided and you will be recommended to some of IT development firms.
Data Science Corporate Training in Chennai
Private Bootcamps
You have a team that already understands your company. We'll enhance their skills and transform them into being able to extract actionable insights from your company's data.
Hosted at a location convenient to you
Caters to a large group of employees from the same organization
Inlcudes our popular five-day curriculum
Customized Training
We understand that your business is unique. Customize the curriculum to deepen your team's data science capability, be it a particular domain or a technology that you want to focus on.
Comprehensive needs assessment
Dedicated support for designing a training that meets your needs
Includes industry and company specific datasets and projects
Data Science Online Training in Chennai
Conducting regularly online- training for US peoples in all time zones (PST,CST,EST,HST,MST) My training is 100% Money Back Guarantee (Tuition fee) for Passing Online Examination with cent percent and ready to go live with production system immediately. If my training does not satisfy you at any point of time, even during the training period, you need not pay the tuition fee.
100% practical training only. It is not a slide show training program / theory class program. At the end of this class, definitely you will refer your colleagues / friends / relatives for my training.
Data Science Downloads
Data Science Syllabus Downloads
Highlights of Datascience Training
The presence of experts in Datascience real time as the training faculty.
Provides the best learning environment.
Limited students per each batch.
Faculty's interaction with each and every student for the better subject retention.
Well, affordable Course Fee.
Adyar
No.11 , First Street ,
Padmanabha Nagar , Adyar ,
Chennai-600 020.
OMR
No.19, Balamurugan Garden, OMR Road, Thoraipakkam,
Kancheepuram (DT).
Velachery
No.28, Nagendra Nagar, Opposite Phoenix Mall, Velachery, Chennai - 600 042.
Tambaram
No.1, Appa Rao colony,
Tambaram,
Sanatorium,
Chennai - 600 047.
Anna Nagar
SDV Arcade
4th floor, AB-5, 2nd Ave, Anna Nagar, Chennai - 600 040.
Greens Technologys Overall Reviews
Greens Technologys Overall Reviews

5

out of

5
based on
17,981
ratings.
17,981
user reviews.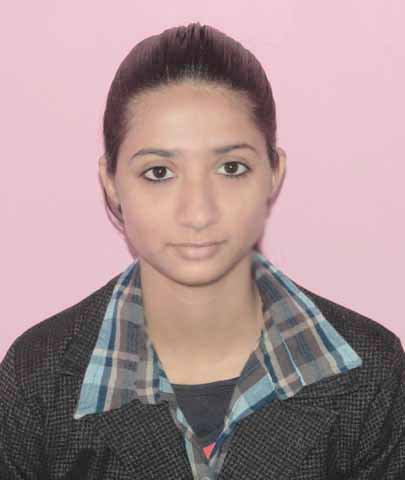 "I thought I knew Data Science until I took this course. My company sent me here against my will. It was definitely worth and I found out how many things I was doing wrong. Karthik is awesome. but i got a lot inspired by you. I will keep in touch and will always try to learn from you as much as I can. Thanks once again Karthik"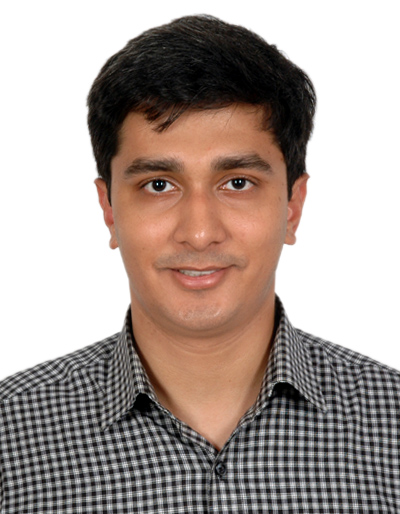 "Extremely positive!. This could summarize my experience with this institute for Datascience. Karthik is sprit filled teacher. It was surprising to see him bother so much to make us understand simple mathematical problems which are related to Datascience particularly we were impressed when we came across concepts such as Linear Discriminant Analysis/ Principal Component Analysis where he gave us geometric understanding of these concepts for the first time in 6 years (after my college) I was able to understand what is eigen Value/ eigen Vector. He is expert in Datascience with vast experience combined with his enthusiasm he has for a teaching makes the experience very pleasant. It was rigorous session. I would recommend Greens Technology for Data Science/ Machine Learning."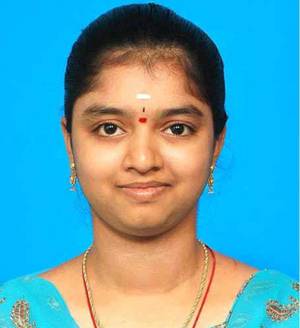 "This is one of very few places where our expectation (from reviews) meets reality. The quality of the content and the Content delivery style is top notch. The quality of knowledge one will be able to earn from Karthik creates a benchmark in one's career provided the learner is willing to delve into machine learning / analytics. Worth every penny and time that we spent in Greens Technology. He is an optimistic Trainer would repeat class if we didn't understand even the simple mathematical concepts. Karthik is Passionate about explaining data science to non-technical business audiences that makes the classes more enjoyable"
Data Science training in Chennai Reviews from Urvashi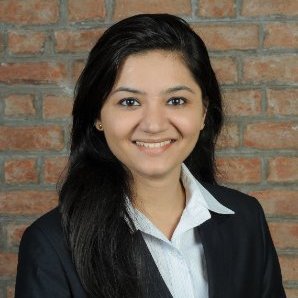 I'm glad to have taken Data Science Training under Mr. Karthik. When I approached Greens Technology I was a Junior Data Scientist, so I could say I know a thing or two about data Science at least that was the perception I carried into the class, but as sessions progressed I could see what ever little knowledge I had was completely exhausted in first 4 classes of Mr. Karthik. He is an IIT grad and expect nothing short of amazing class experience which is very helpful for students, at the end I had participated in online hackathon events for data science and even won 5th position in those competition. I'm now a successful data scientist with 2+ years of experience.
Data Science training in Chennai Reviews from Chetan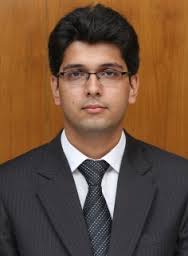 I'm a business analyst working in insurance sector, I was looking for Machine learning course with good number of algorithms and insight into mathematical concepts from statistics and numerical analysis. Fortunately, I came across Greens Technologys, Course Instructor was Karthik he is a through professional the way he conducted class was inspiring, content was comprehensive and when it came for Machine learning I had apprehension for mathematical understanding. But he took care of that problem his approach was simple and effective he gave us a geometrical insight for algebra (for PCA, LDA) and we had a mini project session at the end of our class, where we had to do analysis of employee churn ratio. I'm not working in R as well as Python implementing customer segmentation for our client. I would gladly recommend anyone to take machine learning with R/ Python in Greens Technology.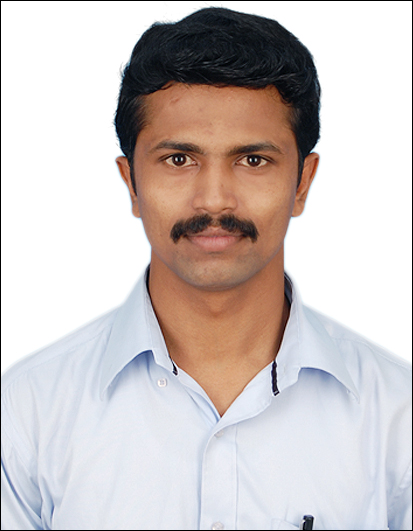 "Friends I'm from SQL background with 8+ years of experience, I had planned to move into Analytics department, when I was looking for various training institutes to take course on R with Data Science I came to know about Greens Technology Adayar and Karthik who is the course instructor. The way he took sessions was inspiring us to learn further in R and machine Learning. No wonder with such intellect his class did wonders to us, I even got great insights from him regarding data scientist job interviews. His class and materials which he shared is of great knowledge base. Using those materials and capstone projects I could clear interviews and I'm a data scientist for almost two years. This move was defining moment for a better change in my career."
Related Trainings
Companies that believe
in bots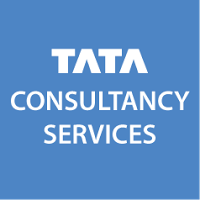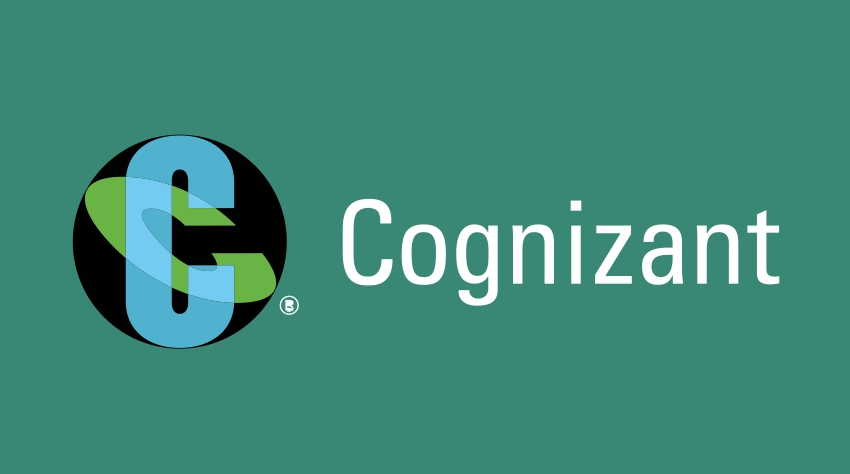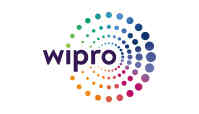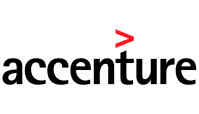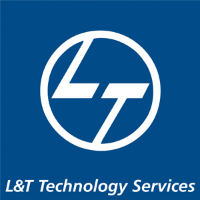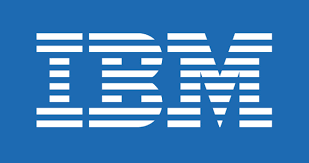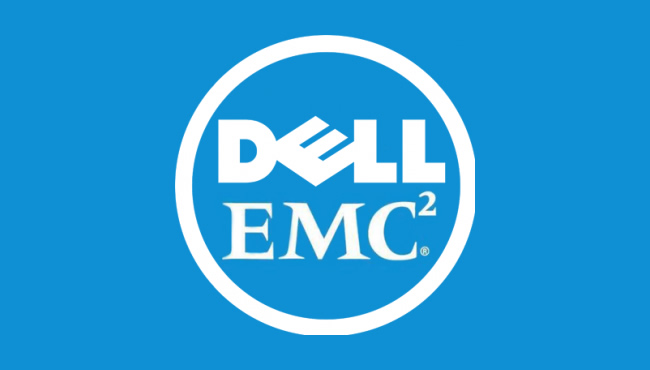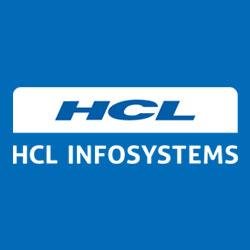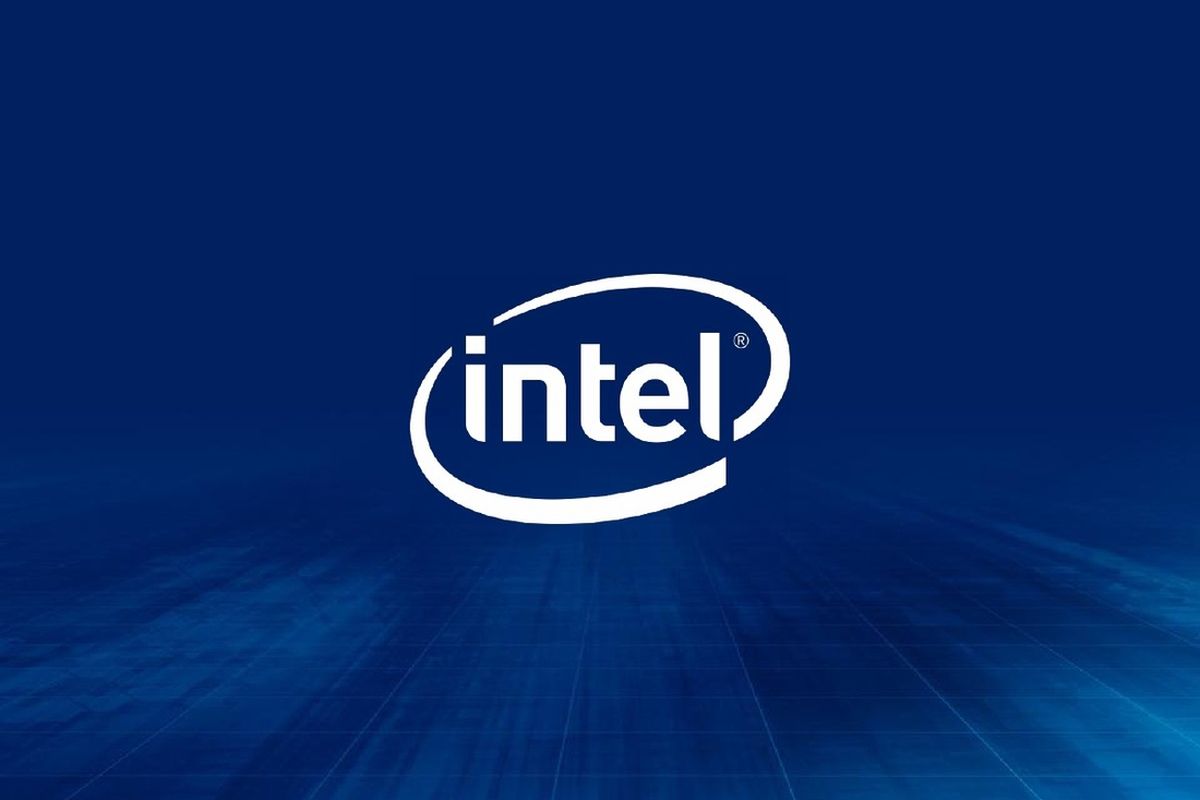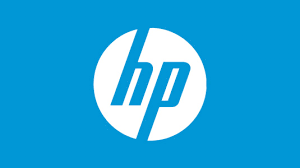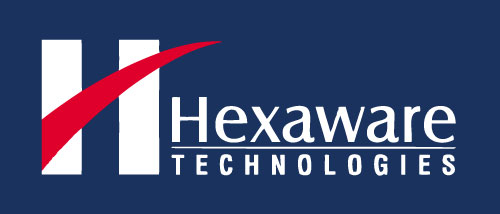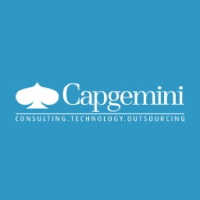 Greens Locations
Adyar
OMR
Velachery
Tambaram
Anna Nagar